Still not sure?
See what our customers say about our work.
---
"Highly Recommended"
Roy and the team built as a really fantastic gym building in the garden. We agreed a price and that didn't change and they met the delivery programme as well. They have also been back to do a fresh coat of oil on the cedar cladding. Highly recommended.
"Friendly and efficient build crew"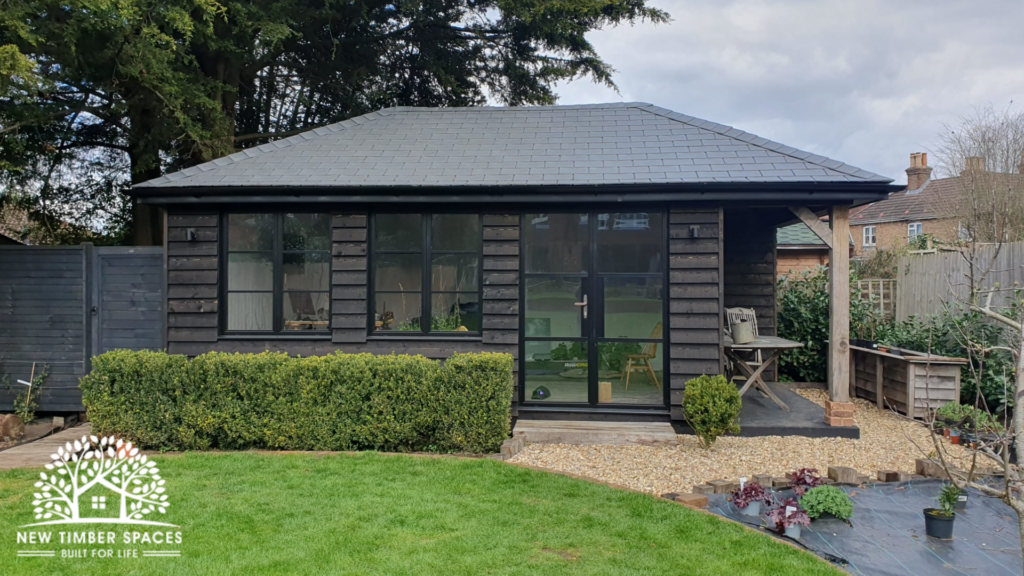 We were looking for an experienced team that could bring our ideas to life. Roy brought a lot of new construction ideas and materials to our initial meetings. He was also super helpful through the planning process. Once on-site, the construction team were brilliant. A friendly and efficient build crew had the project running like clockwork. On time and on budget. The handover was a breeze as the quality checks throughout were accurate. We'd recommend Roy and his team to anyone looking to create new spaces.
---
Always a daunting propect choosing a partner for a project and the New timber spaces team made this decision much less stressful
Their approach to our complex project was fantastic and honest, weaving together our needs with a solution which made the most of our space.

Clear feedback and transparency on timelines made things easy to plan and the teams workmanship was second to none. Communication and cleanliness were of the highest standards, which made things during the project easy to work around.

With any project a client needs to find a trusted partner who can deliver the desired outcome and we were able to fully hand over the project to the team, as we had full faith that out needs would be met.
A quality team delivering superior outcomes to many in the market.
The team are extremely pleasant, professional and incredibly hardworking. Their workmanship is carried out to perfection, the attention to detail and high build quality is what sets them apart. Roy is wonderful chap, who works closely with his clients on building their dream garden rooms. No brief is impossible, and Roy will help guide you on design, suitability and what could be done within the land available. The finer details are discussed to ensure the client is satisfied and any questions or concerns are prompty addressed. The quote and estimate is clearly broken down to help you understand the scale and nature of the project involved, which is really great.

I am extremely pleased with their work and couldn't have asked for a better build. It is a real joy to occupy the garden room. I would have no hesitation in recommending New Timber Spaces to anyone who is seeking a high quality garden room. 5 stars!
We cannot recommend Roy and his team, New Timber Spaces enough. They were absolutely fantastic right from the beginning- helping to design our bespoke garden room; which was going into a difficult corner of our garden and was Roy's first trapezoid shape, right through to the end of the job. This shape allowed us to maximise the size of our garden room and gave us a lot more space than we thought possible.
Throughout the job we were kept fully informed with time scales, choice of materials etc. All of the team were friendly, knowledgeable and a pleasure to have around, nothing was ever too much trouble for them. They worked through some pretty grotty weather but always tidied up at the end of the day. Roy was always available and if not on site would return our calls and respond to any queries or questions very promptly.
Thank you very much, we are delighted with our new garden room, a little oasis at the bottom of the garden and wish you all the best for the future.

Thank you so much again for you and your team doing such a fantastic job. We've had quite a bit of building work done in the past and i can honestly say that this has been the smoothest and most pleasant experience-you we're true to your word and very respectful of our home/garden and delivered beyond our expectations.
And as I said earlier your team are really a delight to have onsite and represent your company extremely professionally, amiably and went above and beyond.

We will for sure sing your praises to any friends that are thinking of getting a 'Garden Room done. 😉
Best, Emily
---

I am 100% delighted with my Garden Cabin which has developed into a delightful multi purpose space at the end of my garden. Roy and his team went above and beyond in design, functionality and completion of my project.
We had several practical hurdles to overcome, running a soil pipe down the garden and removing an old dying sycamore tree – all handled smoothly and calmly by Roy and his team. Loved having them on site as nothing is too much trouble and Roy and team are polite, friendly and respectful.

I had been looking for a while for the right person to help design and build a therapy room in my garden. As soon as I met Roy I knew that he was the right man for the job. He was personable, totally accommodating to my specific needs for my work workspace and was 100% engaged throughout the whole process.
His communication was quick but thorough, with no questions left unanswered.His team were friendly and professional and the finished product is just what I hoped for. Without a shadow of doubt, I would 100% recommend Newtimberspaces.com to others.
---
We are absolutely delighted with our new office and gym space from New Timber Spaces. We had been recommended Roy and his team by friends who had also had a positive experience and we were not left disappointed.
Planning was detailed and a clear start date set. During the build, the team always turned up on time, worked diligently and left the garden tidy at the end of each day. The materials used were of excellent quality as was the workmanship, with obvious attention to detail. Communication was excellent and we were consulted on different options for finishes and blending in with the existing garden along the way.
We could not be happier with the end product and would have no hesitation in recommending Roy and the New Timber Spaces team. The whole team were a pleasure to work with.
We cannot thank Roy and the team from New Timber Spaces enough for our beautiful garden office and gym.
From start to finish, working with New Timber Spaces has been a really positive experience. We were consulted at every step and the workmanship and attention to detail has been spot on. Roy had valuable input at the planning stage and the project was well planned and worked to plan thanks to the excellent teamwork.
Roy's quote/specification was detailed and thoughtful and he made sure everything was covered by providing a helpful checklist. The attention to detail and care was really appreciated by us even down to making sure our lawn was protected and the site was tidy at the end of each day.
You will see from the photos the team did a fantastic job and finished within the time frame with no hidden extra costs.
We could not be more thrilled and would have no hesitation in recommending New Timber Spaces, they were an absolute pleasure to work with.
---
I just had my new office built by New Timber Spaces, at first, I was a bit unsure because about the company reputation because I couldn't find any reviews online and I didn't know Roy (the owner).

I've booked a visit with Roy who came to survey the area and talk about the different options, he seemed to know his trade and gave me confidence that he was passionate about his business and unwilling to compromise quality for price.
I went with my gut feeling and I'm very happy to report it did pay off!
Roy and his team were professional, respectful and considerate throughout the project.

Thank you!
To read the entire review on Google reviews, click here.

I couldn't be more delighted with our garden cabin. Roy at NTS was first class all the way through the design process to the final build. The build team were friendly, respectful and took care not to disturb or disrupt our family life during the build. We now have a wonderful home office, gym and store room that we will enjoy for years!
We couldn't be happier. You've been brilliant and I will be recommending you to anyone who want a garden office/room.
---

We would like to say a huge thank you to Roy and his team, for an absolutely fantastic job on our gazebo. A very professional, friendly service, highly recommended!
I was looking online for a wooden pergola to complete a patio area which enjoys the afternoon and evening sun. So pleased I found NTS who were great at taking my unstructured thoughts into reality. From design through to completion very pleased and the end result has delivered a bespoke structure which is far superior in design and quality to what I'd seen online. With assembly included NTS offers a complete package and happily recommend them to others.
---
Roy and his team from New Timber Spaces did such a good job building our Garden office I hardly ever see my husband anymore! We are extremely pleased with the end result and the whole process from start to finish was very proficient. Roy is skilled, professional and personable. I would highly recommend him.

Roy and his team did a great job squeezing a building into an irregular plot. lots of good advice about materials and finishes. We now have a very elegant Garden Room which will give us flexible usage for decades. I have to commend the team on their professionalism as they really inspire confidence throughout the build process.
---